Church of the Holy Rosary, Castlebar F23 WV62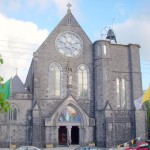 Mass Times
Monday: 10.00am, 7.00pm
Tuesday: 10.00am (extra 8am Mass during Lent)
Wednesday: 8.00am, 10.00am
Thursday: 10.00am (extra 8am Mass during Lent)
Friday: 8.00am, 10.00am
Saturday: 10.00am
Sunday: 7.00pm (Saturday Vigil)  8.30am, 10.30am, 12.o0pm
Holydays – Refer to Newsletter
Church of the Holy Rosary
The Church of the Holy Rosary, located on Chapel Street, is the largest church in the parish of Aglish (Castlebar, Ballyheane and Breaghwy). The old St Mary's church, dating from 1800, was to the east of the present building, and included a rear public gallery and organ loft.
At the instigation of Archbishop John McHale, Archbishop of Tuam, a new church was started in 1876, to a design by J.J. O'Callaghan. Much of the funding for the project came from the diaspora in the USA. This church was on a higher site opposite the original church. Progress slowed when the parish priest Canon James Magee died in 1885. His successor, Canon Patrick Lyons, demolished the half-completed church in 1891, much to the consternation of parishioners and donors, and built the present church alongside the old St Mary's church.
The present church, designed by Dublin architect, Walter G. Doolin , was started in 1897 and opened in 1901, dedicated to Our Lady of the Holy Rosary. James Pearse, the English father of Padraig Pearse, made the marble altar, and the stained glass was by Meyer of Munich, Germany. The large, five-lancet window over the altar, features images depicting scenes from the fifteen mysteries of the rosary, and was presented by the Archbishop of Tuam, Dr. John McEvilly.
The beautiful ornate iron gate at the entrance to the baptismal font was manufactured by Messrs. John Fagan & Sons, Dublin. Babies being baptised, therefore, had to pass through "Fagan's Gates", the traditional means of being considered a 'true' Castlebar person.
The original design of the church provided for a spire on top of the tower, although this has never been completed. A parochial house was built in 1904 on the site of the aborted church, although there is also a nearby presbytery dating from 1863.
In 1986, further improvements were made to the sanctuary by then parish priest, Canon Sean Blake, including the installation of a new altar and ambo. His successor, Canon Patrick Curran, commissioned a mosaic of Our Lady of the Rosary over the main door to celebrate the church's centenary in 2001. Walter Michel a German artist living near Parke designed the beautiful mosaic now over the front door. The mosaic was blessed in the presence of the artist, Walter Michel, on October 7th, 2001, the feast of Our Lady of the Rosary.
(Further information in "Through Fagan's Gates" by Tom Higgins (2001), available Parish Office).